How Customers Want to Pay
SBI Payments features secure and efficient integrated credit card and eCheck payment processing, powered by Global Payments Integrated. With SBI Payments you can easily and quickly process payments by credit card or eCheck with SBI Edit Receivables, Triumph Quick Receive, Wireless Sales (POS), and Online Orders.
Why choose Global Payments Integrated and SBI Software?

Seamless Integration
All transactions are fully integrated within SBI Software, eliminating double entry, costly errors and reconciliation times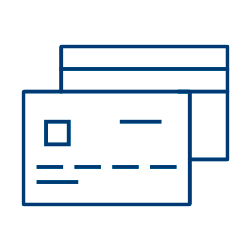 Payments Anytime, Anywhere
Accept all major payments types, including credit, debit and chip cards, and contactless digital wallets

Advanced Security
With encryption, tokenization, EMV® and PCI support, you'll be accepting payments on one of the industry's most secure platforms

Automatic Card Updates
Lost, stolen and expired credit cards are automatically updated on a nightly basis to reduce declines

Outstanding Service
Global Payments Integrated has been recognized by J.D. Power for providing an outstanding customer service experience for phone support**

Meet or Beat Guarantee
Global Payments Integrated will match your current rates or any other published offer you have in hand or you receive a $50 gift card*